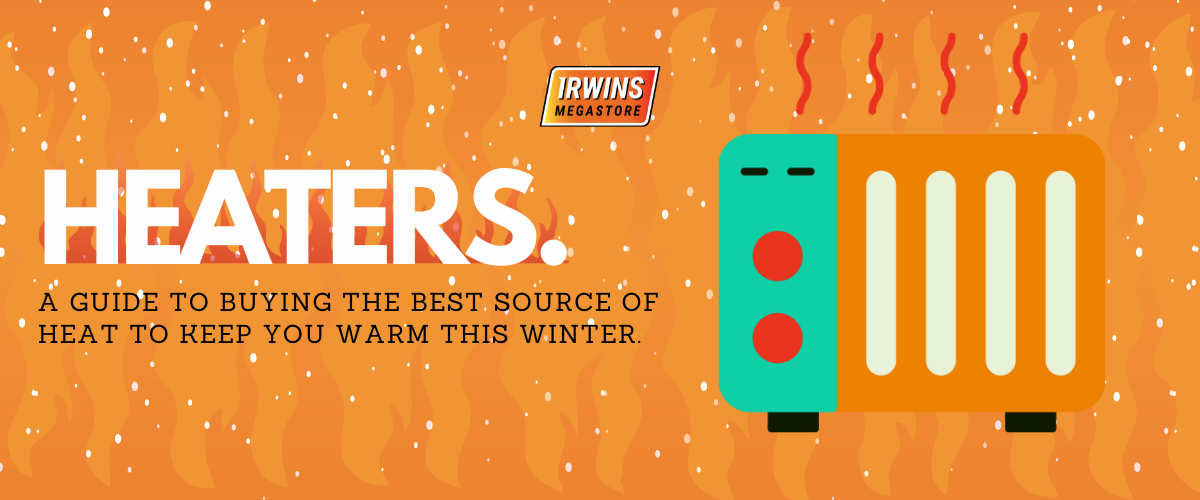 Best Type of Heater for Homes: Winter Heating Guide
Winter is coming very soon, and besides ​​coats, jackets, hats, scarves, gloves, earmuffs, as essentials to go out on those freezing days, this season also calls for a way to keep our homes warm and cozy, so having a nice and reliable heater becomes crucial in order to go through this beautiful but very cold months. 
We all know what a heater does, and even if you've never had or seen one, you can probably guess what its function is just by knowing its name, it is very self-explanatory. 
But, what you might not know and most likely will not be able to guess, is the fact that there are many different kinds of heaters, actually. And in order to find the right heater for your home, it's only probably appropriate to learn about the differences and the specific purposes of each.
So, in order to decide which type of heater fits your needs the best, a question you need to ask yourself is whether you're trying to raise the overall temperature of the room or just keep yourself feeling toasty. It's all about whether you prefer the air to be warmed up first, or if you'd like to feel warm immediately after turning the heater on. 
You should also factor in what size heater you need for your space to optimize energy usage. Safety features such as an auto-shutoff if the unit overheats or tips over are very good to have in your heater as well. In addition, consider other features that might add value, like a fan-only mode, air purification, or a digital display.
Types of Space Heaters:
Based on how they produce heat, portable heaters are broadly classified into three types: convection heaters, radiant heaters, and heaters that are a combination of those two.
Convection Heaters
They have a unique design to warm the air in a room, not the people and objects inside. They produce hot air that rises to the ceiling and pushes cooler air to the floor, causing circulation of air in the room. These heaters are either baseboard heaters or water-filled/oil-filled heaters. The latter are by far the most efficient, but they are generally warm to the touch.
Radiant Heaters
They are used to heat people and objects in a room, not the air specifically. This type of space heater provides warmth to someone sitting in front of it. If you want heat very quickly, this is a great choice for your home. However, be aware that there are certain dangers associated with radiant heaters. They can burn people and animals when touched, and they present fire hazards when placed too close to flammable or combustible materials. Always place any type of space heater at least three feet away from these objects on all sides.
Combination Heaters
They provide the best of both options. They use a fan to help distribute heat throughout the space, but they are not as efficient as the other types of space heaters. They are a good choice for almost any room in your home.
Some options for the previously mentioned type of heaters are: 
Ceramic Space Heaters
A ceramic space heater is outfitted with ceramic plates that are attached to metal coils. It runs on electricity. As electricity passes through those coils, the ceramic plates heat up. The ceramic plates continue to absorb electrical heat and that heat has to go somewhere, so it gets released into the air. 
The main advantage of ceramic heater units is that they can warm up instantly and it takes very little time for you to feel the heating effects of this type of heater. This design makes them some of the most efficient electric heaters available.
They can come with or without a fan. If the ceramic heater has a fan, then the fan blows air over the ceramic plates to help distribute the heater air more quickly into the room. If the ceramic heater doesn't have a fan, then the heating process takes a bit longer since the air has to absorb the heat that's being slowly released by the ceramic plates
Pros:
Compact in size

Lightweight, easy to move around

Instant heat

Heat can be oscillated

Cool to the touch

Some include a digital thermostat
Cons:
Doesn't heat a very large space

Slow to heat if they don't have a fan

Heat transfer can be blocked by objects

Requires constant electrical energy usage
Fan Space Heaters
A fan space heater is very similar to a ceramic heater. In fact, it operates the same in almost every single way except for the heating element. Instead of using ceramic plates, these types of space heaters heat up a metal coil, and that coil is what transfers heat into the air.
The fan blows air over the metal coil which pushes heat into the room.
Pros:
Cheap to buy

Compact in size

Lightweight, easy to move around

Instant heat

Heat can be oscillated

Cool to the touch
Cons:
Heat transfer stops as soon as the heater is turned off

Heat transfer can be blocked by objects
Doesn't heat a very large space
Most only include turn-dial thermostats, so you can pick a temperature precisely
Must constantly run (and use electrical energy to deliver heat)  
Infrared Space Heater
An infrared space heater works in a completely different way than a ceramic heater or fan heater. However, they're also powered by electricity and the way they warm up a space is by emitting electromagnetic waves into the air that heat up the physical objects that are present. Instead of warming up the air, infrared heater types heat up the objects like furniture, carpeting, wall and human bodies that are around it. Since infrared use electromagnetic waves, and not a heating element, to warm up an area, they don't need a fan to operate. However, some models do include a fan to help speed up the heating process. 
Additionally, some units even look like real fireplaces. So if you want a more cozy feel from your heater, then consider our list of the best electric fires available or wall mount electric fireplace reviews.
Pros:
Heat is not blocked by objects (objects absorb the heat)

Heat is long-lasting and continues even when the infrared heater is turned off

Some models have wood cabinet designs and look like furniture

Cool to the touch housing

Some include a digital thermostat

 Easy to move around if it has wheels or a handle
Cons:
Can be heavy

Heat is one-directional

Requires physical objects in the room to absorb the heat transfer, so less heat with fewer objects

More expensive than ceramic and fan heaters
Oil Filled Space Heaters
This kind of heaters, often referred to as "radiator heaters" because their resemblance to old-fashioned radiator heaters found in older homes are portable and run on electricity.
Inside the body of the heater is diathermic oil. This oil gets heated up and circulates through the columns, as those columns get hot, the surface temperature rises and heat is released into the air.
Since oil filled space heaters use an internal fluid to heat up a large exterior metal surface, a fan cannot be used in these heaters to help distribute the heat. The heat can only radiate off of the unit through the process of convection.
Pros:
Heat is long-lasting and continues even when the heater is turned off

very efficient and doesn't gave to continuously run to provide heat

Some include a digital thermostat

Easy to move around if it has wheels
Cons:
Speed of the heat can't be controlled

Can't heat large rooms as most models max out at 14 Mt2 (as primary heat source) and 28 Mt2 (as supplemental heat source)

The housing gets very hot, so can be dangerous, especially for children and pets 

Heavier than other types of heaters (around 7-9 Kgs)

Heat can't be oscillated
Radiant bar heaters
They're also electric heaters; and as the name suggests, they radiate heat (using infrared rays) outward, generated by a number of bars built into the heater. This type of heater transfers heat directly to people and objects within proximity, so isn't the best option to heat an entire room.
When shopping for a radiant bar heater, you will notice that the bars are numbered – such as a two-bar or three-bar heater. Radiant bar heaters do not circulate heated air with a fan, which means they operate silently, also, they are small, portable, and best suited for personal use. 
They can also provide heating for small spaces like an office or small bedroom and are available at a range of budget-friendly prices, starting from €60 and reaching up to €1,000 for heavy-duty models.
Pros:
Energy efficient

Quieter than convection heaters

Available as freestanding or wall-mounted units

Good option for allergy sufferers (no circulating air)
Cons:
Only provide targeted heating

Limited temperature control settings

Stop radiating heat as soon as turned off

Feature exposed heating elements, so can be dangerous, especially for children and pets
Now that you know them all, its up to you to decide! Which one will it be?
Well, take your time, analyze the options and choose the heater that will suit your needs.
Feel free to take a look at the ones available in our stores: Heating - Irwins Megastore and remember, we'll always be here to help you find the best appliances🧡