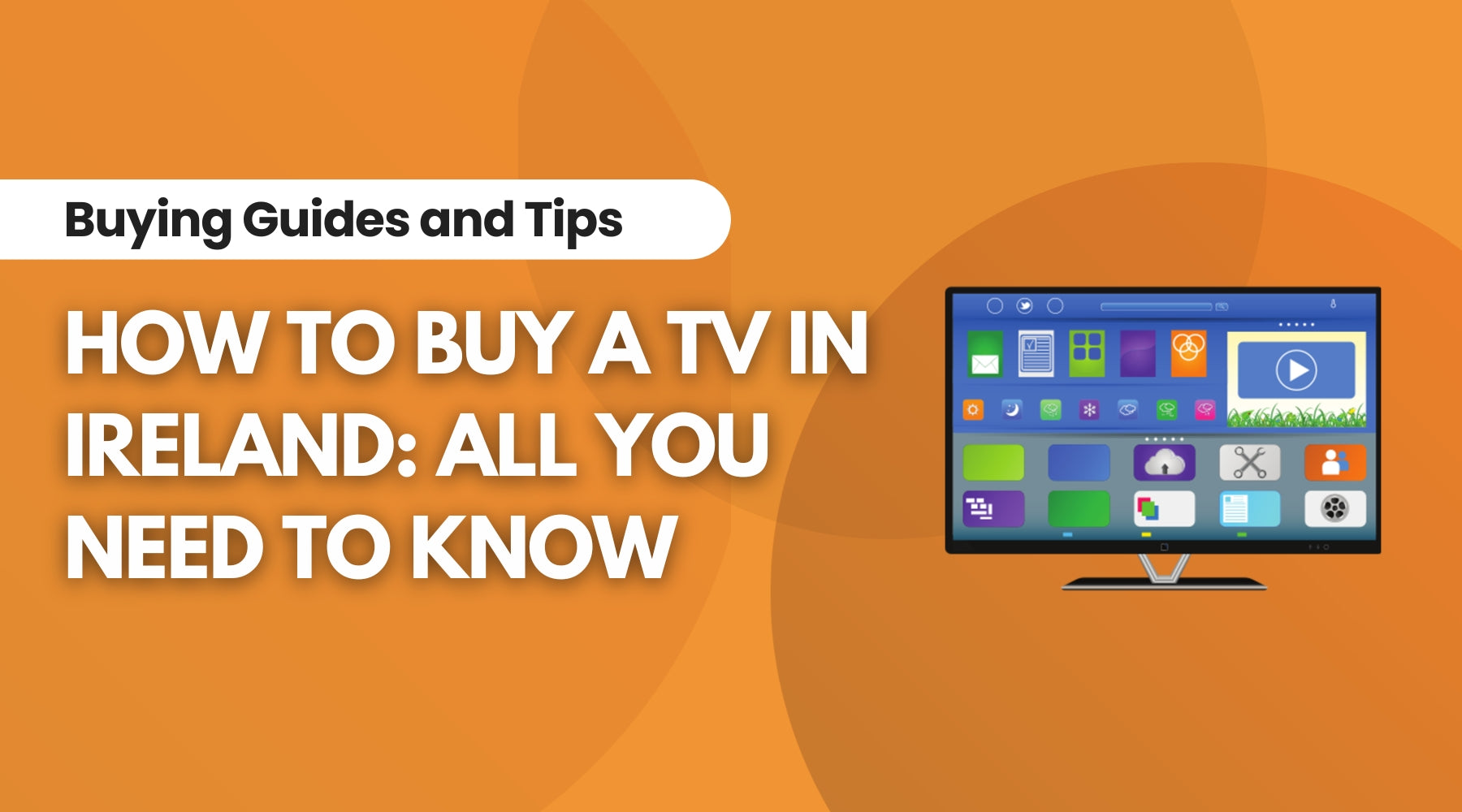 How to Buy a TV in Ireland: Ultimate Guide for Beginners
Home entertainment in Ireland has been revolutionised by the introduction of cinema-worthy screen sizes and picture quality. Gone are the days when families huddled around a small box in the living room with grainy images. Today's TV experience includes the perks of Smart TV, bigger than ever screens and exceptional light technology.
When it comes to buying a new TV there are a few key features to consider whilst shopping. We know that you want the type of TV that not only looks impressive but also works best in your home. That's why we put together this brief guide for you. Here are the top three things to look for when buying a TV in Ireland.
Best TV Size For Your Home
Available TV sizes in Ireland average from 22 inches to 70+ inches. Note that these sizes are not an indication of screen width but are the diagonal measurement from corner to corner. 
When you have decided where in your home the new TV will be displayed, look at the display options available. Most modern TVs can be wall mounted, but not all walls can hold a TV's weight. Stud walls in particular should be checked by a professional handyman before mounting a TV bracket or TV. Many TV models come with an integrated foot or feet, so you might prefer a stylish TV stand or console.
Bespoke built-in TV units are a popular design trend in Irish homes for displaying TVs. Keep in mind when planning this kind of unit that you might possibly want a wider screen in the future.  In this case, leave extra room for your next TV upgrade. If you have a cabinet or built-in unit already, double-check the width, depth and height before replacing your old TV.
As well as the available space in your home, think about how far away you view the TV. You ideally want to be a minimum of five feet from any screen size for optimal viewing. If you are further than that from the screen, consider a bigger TV. Screen resolution is important here too, we've included more details about this below.
How To Choose A Good Screen Resolution
At the very least, today's TVs come with a resolution of 1080p - also referred to as Full HD. These TVs offer a sharp, clear picture and you will also notice less blur and smooth movements than lower resolutions.
The best TV resolution for you depends on the kind of experience you want. Newer TV models have a 4K screen resolution, quadruple the number of pixels of that of a 1080p TV.  When you watch your favourite shows on a 4K screen you'll notice more details and enjoy an immersive experience. Even shows and films not shot in 4K will be scaled up by your TV for a better picture experience.
Houses come in all shapes and sizes, meaning TVs are displayed at different angles in each home. For some, the TV is a central focal point and in others, the TV is watched at an angle.  When watching TV at an angle, the screen resolution will play a role in your experience. With a higher resolution, sitting quite close to, or at an angle to, the TV is not a problem. This is especially true of OLED TVs which maintain image quality from any angle.
Features To Look For In A New TV
Smart TVs
 The difference between a Smart TV and a regular TV is simple: Smart TVs can be connected to your internet. This Smart connectivity turns your TV into a digital media player, meaning your TV can stream Web 2.0 content. With a Smart TV, you can access streaming services, such as Disney+ and Netflix, as well as apps, YouTube and Amazon Prime. 
With Smart TVs, the gamer in your life can also connect to online games and live tournaments. Smart TVs can also play music and radio, ideal for when you are entertaining guests or relaxing. 
OLED TVs
You might hear people refer to OLED TVs as the 'new Plasma TVs' this is because Plasmas also had emissive displays. Emissive displays are different to LED screens in how they create the TV picture. The pixels of an LED TV are illuminated from behind (known as a backlight array). With emissive display TVs, each pixel on the screen emits its own light.  The colour and illumination strength of each pixel can be varied too, creating a richer cinematic TV experience.  The clarity of an OLED TV picture is often described as 'lifelike' and 'pin sharp'. 
As we touched on earlier, OLED TVs also have incredible viewing angles. This is the ideal TV feature for a home where the TV is viewed from an angle instead of head on. You will still experience a perfect picture and immersive entertainment.
Ambient Light TVs
Ambient Light TVs bring extra meaning to immersive entertainment. As well as a HDR quality display, Ambient Light TVs have additional lights running on the outer edge of the TV. These lights are intelligent LEDs that respond to whatever is on the screen and emit a captivating glow. With Ambient Light TVs you get closer to the action on screen as the immersive glow lights up your room.
However you watch TV, you are bound to find your perfect TV at Irwins Megastore. You will only find the brands you can trust online at irwinsmegastore.ie and instore at our Cork and Waterford stores.
Right now, our TV range includes LG, Huawei, NordMende, Samsung, Philips, Panasonic and more. We stock Smart TVs, OLEDs, Ambient Light TVs, 4K TVs in all sizes and the accessories you need too. When it comes to home entertainment, we have everything you need. Better still, our experienced TV experts are on hand to help you choose the best TV for your home.
Black Friday Blowout: Shop Now and Save Big!
Don't miss out on the biggest shopping event of the year! Irwin's Megastore is having a Black Friday blowout with incredible savings on all your favorite items. Shop now and save big on electronics, appliances, and more!