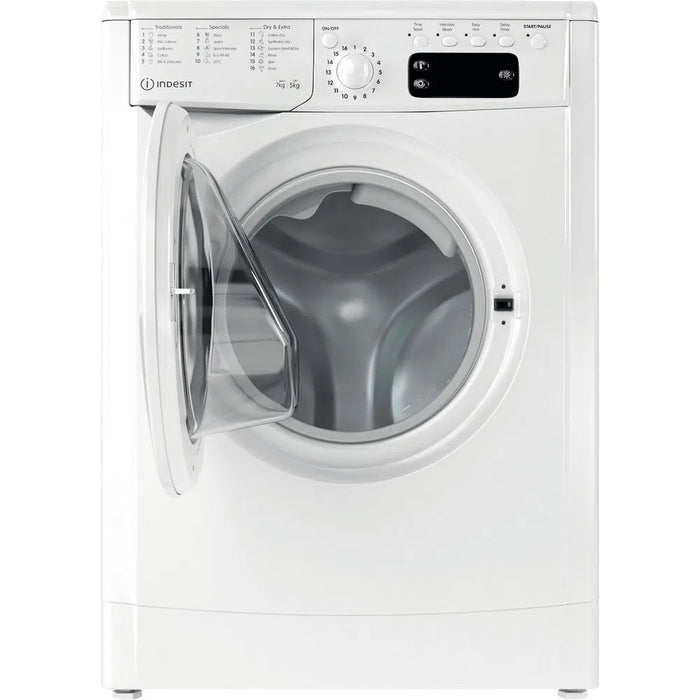 Indesit Ecotime Washer Dryer - White | IWDD75145UKN
Save

€0.00
Save

€-499.99
Original price
€499.99
-
Original price
€499.99
Description
The complete solution to laundry, Indesit's EcoTime IWDD 75145 UK N Washer Dryer delivers 7kg of washing capacity with 5kg for drying, with 1400rpm spin and programs to get beautiful results whilst saving you time, money and effort. With Sensor Drying, each load gets a tailored cycle to its saturation which is just another way that the Indesit EcoTime Tumble Dryer helps to save money and energy. Featuring a choice of 16 wash programs including a special Sports Cycle for your hard-wearing kits, this program respects the natural properties of fabrics, so even after a thorough wash your shorts, t-shirts, socks and jackets are ready for the next challenge. Easily controllable through the LED display, with a Delay Timer allowing you to choose the cycle start time to best suit your schedule, the Indesit EcoTime IWDE 126 UK Washer Dryer helps keep your day on track while giving your beautifully fresh clothes.
Calculates exactly the right amount of water to use whatever the size of the load.
Synthetic fibres are protected while stains are effectively removed using a low 40°c cycle.
The ideal solution for all dried and stubborn stains, such as coffee or chocolate. Simply select the Extra Wash Option alongside any fast cycle to enjoy outstanding washing results.
Schedule the laundry to a time that suits you with the Delay option. Simply set the program and let your machine do the rest.
Energy Efficiency Class Wash/Dry cycle:F

Total annual energy consumption (Washing only 200 full loads) (kWh):210

The water consumption of the full wash and dry cycle in liters per cycle:66

The spin speed in rpm of the eco 40-60 programme at rated capacity:1351

Airborne acoustical noise emissions:76

Weighted energy consumption in kWh per 100 washing cycles of eco 40-60 programme:84

Total annual water consumption (Washing only 200 full loads) (l):10400