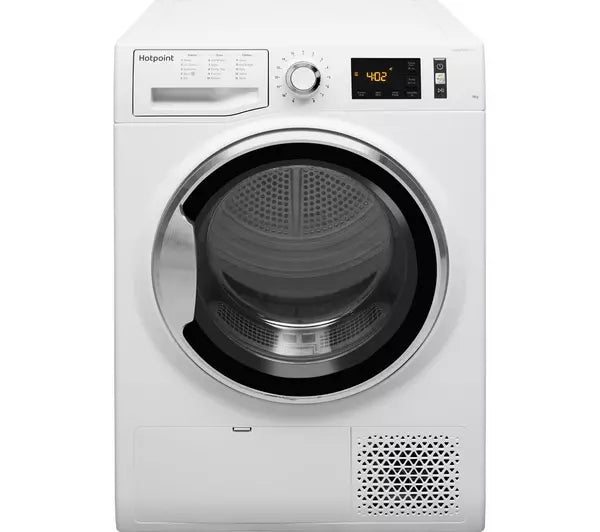 HOTPOINT Active Care Heat Pump Tumble Dryer White | NTM1192XBUK
Save

€80.00
Save

€80.00
Original price
€699.99
-
Original price
€699.99
HOTPOINT Active Care Heat Pump Tumble Dryer White | NTM1192XBUK
Product Details
Big Capacity - Normal size but big capacity. Have all of your laundry dry in one shot thanks to the big drum.

ActiveCare - The innovative ActiveCare Technology reduces by up to 40% the fabric wear out*, minimizing the stress on your garments, so that you can enjoy them for longer. *Up to 40% based on jeans program without ActiveCare

Quickcleaning - An innovative solution in cleaning: a smaller and lighter condenser filter that can be cleaned easier and quicker than before.

Inverter motor - The Inverter motor enables silent operation, long lasting performances and high energy efficiency.

Anti Allergy - Yes

Pre-Ironing Cycle - This cycle makes it easy to remove creases from dried clothing... and that's before ironing! Thanks to the specific cycle algorithm, the air is warmed in order to loosen the fibres and reduce the creases while providing optimal fabric protection, in just few minutes!

Crease Care Option - Less creasing, less ironing, less hassle. Pre- and Post-Creasecare occasionally tumble the load with no heat – the ideal solution if you're not around at the end of the cycle.

Refresh Programme - A 20 minute cool programme that works on dry clothes to air and refresh them – an alternative to washing items you've only worn once or that have been unpacked from storage.

Cuddly Toys Cycle - A delicate drying cycle conceived to dry cuddly toys easier. Low temperatures and a soft mechanical action help to maintain the original look and shine of fur and cuddly toys fabrics.

Sensing Drying Levels - Our own 'set and forget' drying system that uses sensors to monitor moisture and temperature levels inside the dryer and stop the machines. So based on the level of drying you choose the machine senses when the load is dry. Not only convenient for you, sensor drying ensures maximum energy efficiency, but ensures that your clothes are kept in tip top condition.

Woolmark Blue - Delicate drying for woolen garments labeled "hand wash" which respects the beauty of your finest woolen sweaters. Endorsed by The Woolmark Company.
Product information:
Ironing isn't much fun – so this Hotpoint tumble dryer helps to tackle creases while your clothes are drying. The
Crease Care
option gently tumbles the load after the cycle's finished, so your garments won't settle and crease. That means they come out soft, fresh and wrinkle-free. Keep your favourite jumper snuggly – the
Woolmark endorsement
means you can be sure that everything comes out soft. It's easy to keep your tumble dryer clean too thanks to the
easy-to-clean filter
.
Good to know:


- Your clothes can look at their best for longer – the
ActiveCare
technology reduces fabric wear by up to 40%
- The
Anti Allergy program
removes up to 99.9% of major allergens including dust mites and pollen
- The
Pre-Iron cycle

 
relaxes wrinkles using warm air, without damaging fibres.
COME RAIN OR SHINE HOTPOINT TUMBLE DRYERS MAKE EVERY DAY THE PERFECT DRYING DAY
With a choice of drying technologies and features, drying your laundry has never been easier - because we love clothes as much as you do.
LOVE YOUR CLOTHES? KEEP THEM LOOKING THEIR BEST
Thanks to the patented
ActiveCare technology
, a combination of two innovations,
Anti-Stress Movements and Perfect Temperature Control
, work together to prevent clothes from wearing out by up to
40 percent*
. The consistent temperature of the tumble dryer, together with the reduction of the clothes' movements within the drum,
takes better care of your clothes and keeps them looking their best for longer
.
ANTI-ALLERGY
The clever Anti-Allergy option allows higher temperatures to remove bacteria and allergens from your laundry.
Great for those that suffer from allergies or have sensitive skin
.
BEST IN CLASS EFFICIENCY
Heat pump technology
delivers the most efficient energy usage compared with condenser or vented tumble dryers.
With an A+ energy rating, you'll save over 45% compared to a B rated tumble dryer.
SOFT AND GENTLE CARE FOR YOUR WOOLLENS
Care for your woollens with a
delicate tumble drying programme that keeps your fabric's soft. Endorsed by Woolmark
for complete peace of mind.
CARING FOR YOUR DRYER
To help maintain your tumble dryer and get to the
very best performance,
it is important that the lint filter is
cleaned after every cycle,
located in the front of the drum.