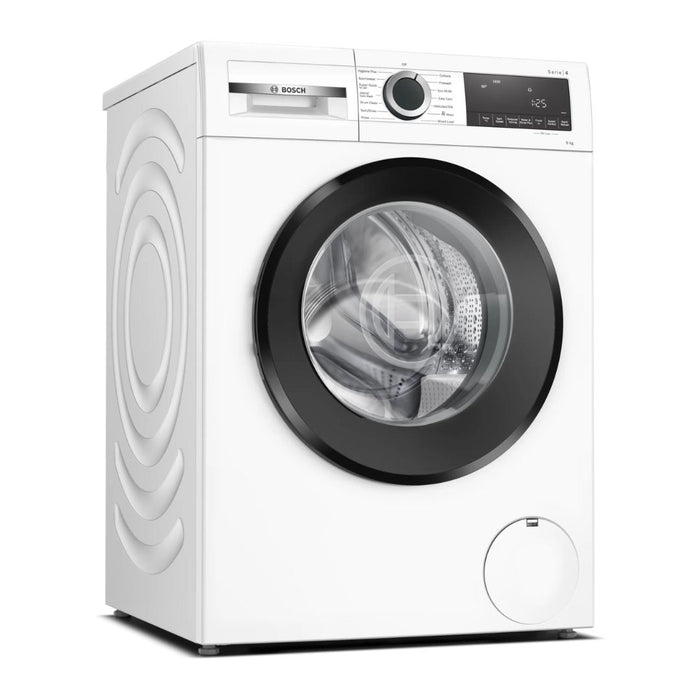 BOSCH Series 4 Freestanding Washing Machine Front Loader 9 kg White | WGG04409GB
Save

€30.00
Save

€30.00
Original price
€599.99
-
Original price
€599.99
BOSCH Series 4 Freestanding Washing Machine Front Loader 9 kg White | WGG04409GB
Description
Perfect results, in less than half the time.
When time matters, washing machines with SpeedPerfect cut the washing time by up to 65%* without compromising on results. SpeedPerfect can be used in combination with most programmes, and with all load sizes and fabric types. For example, select the Mix Programme along with SpeedPerfect, and you can thoroughly wash up to 4 kilograms of mixed laundry in just 46 minutes. *Difference between the duration of Easy Care Programme 40°C and the duration of Easy Care Programme 40°C in combination with SpeedPerfect option.
For highly efficient use of water even with smaller loads.
Our ActiveWater Plus technology delivers perfect results while only using the precise amount of water needed for every wash. This ensures highly efficient use of water even when washing smaller loads. Thanks to highly efficient water management technology, the type and size of load is automatically detected and then the water consumption is precisely adjusted. Save up to 50% of water when washing smaller loads.* *ActiveWater Plus automatically adjusts water consumption to suit your load. Comparing water consumption of Eco 40-60 with quarter vs. full load per cycle.
Guaranteed quiet and long-lasting motor.
Don't let your washing machine intrude on your dinner. Bosch's EcoSilence Drive™ is so quiet that sometimes you might forget it's even on. The brushless, energy-efficient motor is quiet in operation, has an especially long life and comes with a 10-year parts warranty.
Hygienic washing, even at 40°C.
Sometimes clean just isn't clean enough. That's why we developed the Hygiene Plus programme. It keeps the temperature during the wash cycle constant and an additional rinse cycle is added to ensure hygienically clean laundry, effectively killing germs and house dust mites. The result: hygienic washing results that kill 99,99% of common germs even at 40°C.* *Bosch washing machines with the 'HygienePlus' wash programme at 40° and 60° fulfill scientifically recommended conditions for 99,99% of germ reduction for Enterococcus Hirae and Pseudomonas Aeruginosa, according to Honisch et al. 2014, "Impact of wash cycle time, temperature and detergent formulation on the hygiene effectiveness of domestic laundering." Conducted by University Rhine-Waal.
Powerful but gentle washing to protect your clothes.
In the past, your favourite or most delicate clothes may have been damaged in the wash. The unique, patented VarioDrum system uses even water distribution to gently and efficiently wash all types of clothing - without stretching, creasing or damaging your most beloved items. Depending on the selected programme, the droplet-shaped design, with asymmetrical paddles gently rotates your laundry to the centre - regardless of the rotation direction. This not only ensures an intensive clean for more heavily soiled clothes, but a quicker, more thorough clean for the entire load.
Care for your Jeans/ Dark Colours.
The Jeans / Dark Laundry programme is optimised to avoid streaks that can sometimes appear on your garments after washing and to care for coloured items.
Specifications
Installation type: Freestanding
Main colour of product: White
List of programmes: Delicates programme, Easy-care programme, Whites and coloureds programme, Woollens hand wash programme
Wash optimization: Drain / Spin, Mixed Load, Ready in, Reduced Ironing option, Single Rinse, SpeedPerfect, Spin speed reduction, Sportswear, start/pause with reload function, Super Quick 15/30, Temperature selection
Water protection system: Multiple water protection
Energy Efficiency Class: A
Airborne acoustical noise emissions: 71 dB(A) re 1 pW
Airborne acoustical noise emission class: A
Maximum capacity in kg: 9.0 kg
Energy Efficiency Index for the washing cycle: 48.8
Washing efficiency index eco 40-60 programme: 1.031
Spin-drying efficiency class of eco 40-60 programme: B
Energy consumption in kWh per kg per cycle of eco 40-60 programme: 0.464 kWh
The spin speed in rpm of the eco 40-60 programme at rated capacity: 1,351 rpm
Maximum spin speed - NEW (2010/30/EC): 1,400 rpm
Door hinge: Left
Dimensions of the product: 848 x 598 x 588 mm
Depth with open door 90 degree: 1,049 mm
Height of removable worktop: 3 mm
Length of electrical supply cord: 210 cm