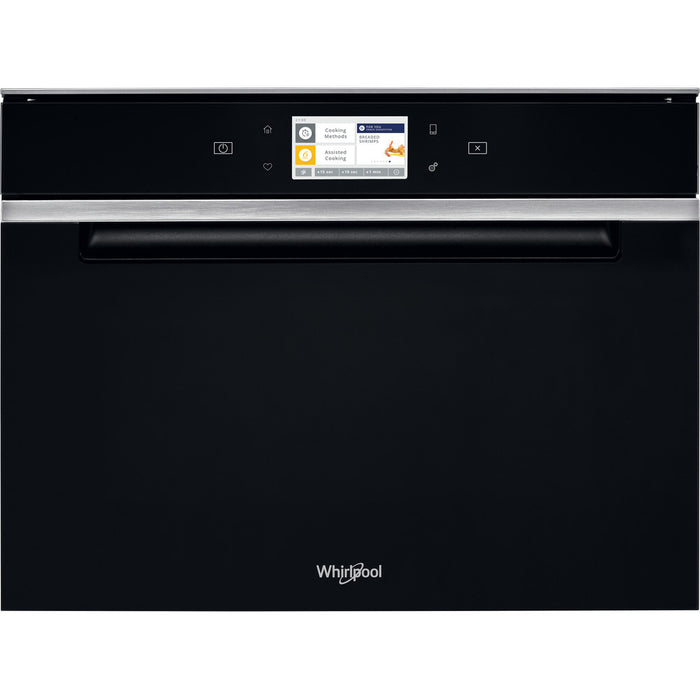 Whirlpool Integrated microwave oven - W11IMW161UK
Save

€0.00
Save

€-999.99
Original price
€999.99
-
Original price
€999.99
Description
This Whirlpool built in Wi-Fi connected 45cm Combi Oven and Microwave has an outstanding 40 Litre cavity size and exclusive 6th SENSE technology, that automatically sets the time, temperature and energy consumption during cooking. Exclusive Crisp function, for unbeatably crisp quiches, pizzas and pies. JetDefrost function for exceptionally fast and even defrosting. Cook amazing variety of dishes with perfect Steaming, Frying, baking and roasting guaranteed every time with a complete assisted cooking experience.
W Collection Promo: 
Avail of free Berghoff frying pan when you purchase selected Whirlpool W Collection Ovens or avail of a free Berghoff sauté pan when you purchase selected Whirlpool W Collection Combi- Oven.
Offer available on selected W Collection Ovens and Combi- Ovens purchased between April 1st 2022 and December 31st 2022.

CRISP
Unbeatable crispness.
This Whirlpool Microwave's Crisp function and dedicated pan ensures you can cook the crispiest pizza, pie or quiche, anytime.
STEAM
Healthy, steamed meals, anytime.
Steam technology provides the healthiest, tastiest recipes, at the touch of a button.
JETDEFROST
Fast defrosting.
Use the unique JetDefrost 3D system to defrost food effectively and with ease in your microwave oven.
FORCED AIR
Seal in the taste.
Thanks to the Forced Air technology, preheated air is circulated inside your microwave oven using an innovative convection system, giving you moist, juicy cooking results.
BREAD DEFROST
Fresh bread, anytime.
With the Bread Defrost setting on your microwave, you can take your bread from frozen to fresh at the touch of a button.
REHEAT FUNCTION
Faster reheating.
Enjoy your reheated meals in minutes, with the reheat function.
6TH SENSELIVE APP
Intuitive assistance from the 6thSenseLive App gives consumers step-by-step instructions, transforming routine recipes into microwaved masterpieces. It learns user preferences, and then suggests recipes and helpful hints to ensure every dish is cooked to perfection.
JET START
Outstanding reheating speed.
The JetStart function boosts the heat inside the oven to the maximum for 30 seconds, providing the ideal temperature to reheat food with high water content such as clear soups or beverages.
6TH SENSE TECHNOLOGY
Confident cooking.
With 6TH SENSE technology, your microwave automatically sets the time, temperature and energy levels during the cooking process.
MYSMART DISPLAY
MySmartDisplay is an intuitive, uncluttered, and easy-to-read interface that simply connects consumers to their W11 microwave oven. The full-colour 4.5" touchscreen (852 x 480 pixels) with six capacitive touch sensors and WiFi connectivity enables cooks to easily control the microwave and programme recipes, while incredible high-definition is provided by a smartphone-style TFT display with superb video and polyphonic sound.
SOFTCLOSING HINGES
The new generation of hinges prevents any noisy slamming, so with just one gentle touch the doors effortlessly close smoothly and silently.
3D TECHNOLOGY
Cooked to perfection.
The revolutionary 3D technology system ensures even heat circulation through a fully 3-dimensional heat distribution system, so you can always enjoy evenly-cooked meals, at the touch of a button.
STEAM&BOIL
Harnessing the natural power of steam, this convenient programme keeps flavours and nutrients sealed in, and steams or boils food in a set of special accessories for easier preparation and faster, tastier results.
CRISPFRY
To cooks delicious dishes with a fried texture and taste, but with little or no oil so it is even heathier to use than a frying pan.
40 LITRES CAPACITY
More room for your cooking creations.
This Whirlpool Microwave offers an outstanding 40-litre capacity, ensuring you'll never run out of space to explore new recipes.
Specifications
Dimensions
| | |
| --- | --- |
| Height of the product | 455 |
Structural features
| | |
| --- | --- |
| Door opening mode | Drop-front with handle |
| | |
| --- | --- |
| Type of grill | Heating element |
| | |
| --- | --- |
| Connection rating (W) | 2800 |
| | |
| --- | --- |
| Type of control | Electronic |
| | |
| --- | --- |
| Length of electrical supply cord (cm) | 135 |
| | |
| --- | --- |
| Turntable diameter (mm) | 400 |