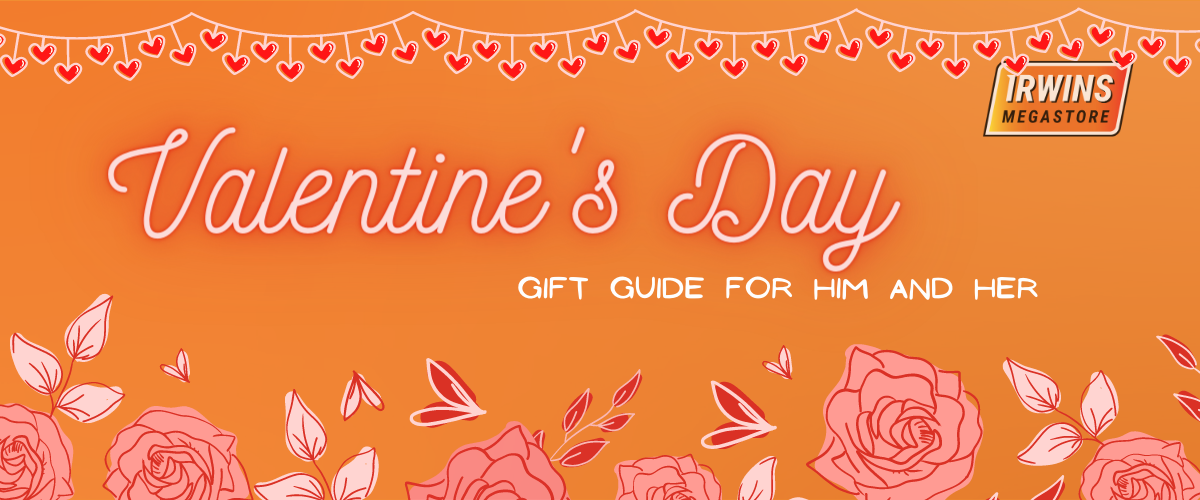 Valentine's Day Gift Ideas for Residents of Ireland
February is here, and you know what that means... ❤️LOVE❤️ is in the air.
Usually, that love has been spread in the shape of chocolate, flowers and balloons, and at Irwins we are all up for the classics, but even if those things are well proven and guaranteed to be nice presents for valentines day, we think you can go beyond that by choosing a gift that not only represents how much you love and care about any person, but also can be more useful for them and enjoyed longer than a box of chocolate or a bouquet of flowers.
And with such a great opportunity to surprise your loved ones, it doesn't matter whether is your spouse, boyfriend or girlfriend, close friend, or even family member, everyone counts and appreciates it when it's about spreading the joy of love in the form of amazing gifts that comes from the bottom of our hearts.
 We also know how hard can sometimes be choosing a gift for a special person, so we've put together a list with a couple ideas that might just do the trick for you.
A great self-care gift for anyone you love, especially for those who love looking flawless at all times.
For all the music lovers that have a special place on your heart, make sure their tunes never stop, no matter where they are.
Spoil any coffee lover on your valentine's day list with one of the amazing machines in our collection. They will be thankful every time they smell or taste it. 
Tea time can be even happier and more enjoyable to your loved ones with these modern and stylish kettles and teapots
Nothing shows more love than a homemade meal cooked in one of this amazing grills, get them one and allow them to enjoy both great food and the company of their loved ones.
For anyone who knows their way around a kitchen, this gift will have them wanting to cook all day every day, and that might have you eating more delicious meals as well.. So win-win 😉
Get those shower-singers out of the bathroom with this gift, and help them achieve their dream of blessing the world with their lovely voices. A fun gift that many people can enjoy 🎤 
Tech lovers or fit enthusiasts will cherish having any of these great devices on their wrists, they have almost become a must-have tool nowadays with tons of functions that make life easier for anyone who wears them.
Bakers and cookers in general will make the most out of this tools, you're up for a lot of treats once your loved one gets their hands on these!