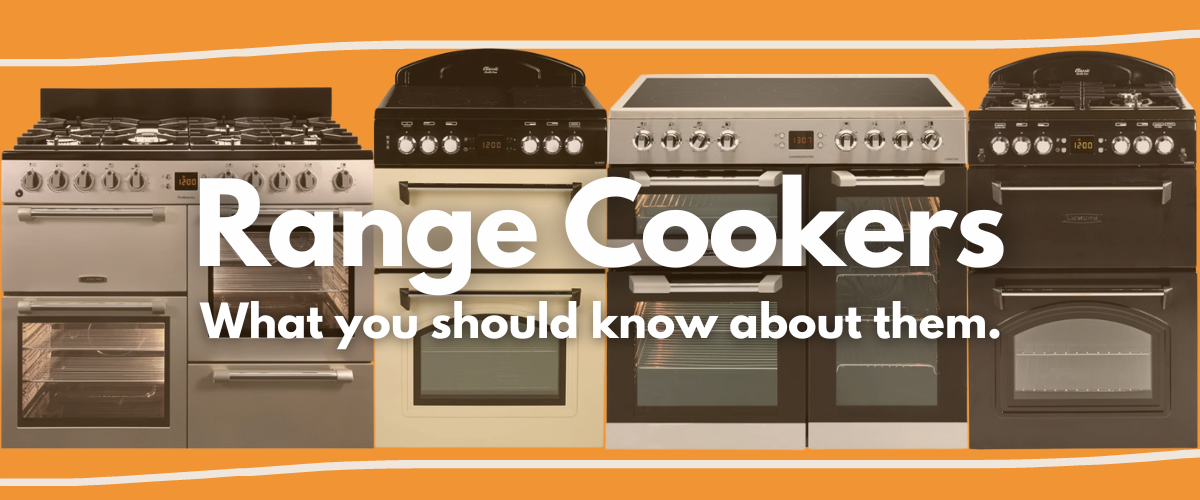 Range Cookers: Essential Features and Considerations
It may be time for you to update the appliances in your kitchen, or maybe you're moving into a new home and need to find the perfect appliances to build your dream kitchen. Since you will be in your kitchen cooking and preparing meals almost every day, it is a crucial step to choose the best cooker to be in it. 
And let us tell you that, instead of having to look and decide for an oven and then for hob and having to take into consideration all of their different presentations, features and specs; you could learn a bit more about range cookers, and all the benefits and capabilities that they have by combining an oven, a hob or a stove, and even a grill or storage compartments. 
So, let's go over them and why they are a great for yours or anybody's kitchen. See below our quick video explaining range cooker sizes and fuel types. 
First, What is a range cooker?
Well, a Range Cooker is a freestanding cooker that usually comes with two or more good sized ovens, a selection of hob burners, and a grill. In many cases, there might be up to three ovens, as well as a grill and up to seven burners on the top. Many people when wondering what a range cooker is will conjure up ideas of antique ovens with solid metal doors and heated storage compartments, but contemporary range cookers are much more suited to modern cooking. They're designed to be highly practical and are a great choice for those who want or need the very best.
Not only do range cookers have more features than a standard oven, but they also have many different cooking settings giving you greater ease and control when cooking many different types of food. The different settings include options such as a pizza setting, fan assisted oven, true fans, quick-start, and several others depending on the model.
In short, a range cooker is a bigger unit than a standard oven, and due to their extra size they offer many more features than a regular cooker.
What to look for in a Range Cooker:
Size
Range cookers are bigger than a standard oven and about 30% larger than regular cookers. This means you can do more at once and they can offer more space and more functionality which is ideal especially when cooking for a large amount of people.
Range cookers most commonly come in sizes 90cm, 100cm and 110cm. It is vital to get the size of your cooker correct, without having to stick to the standard sizing or compromising quality. The advantage when it comes to choosing a range cooker is a lot of brands offer sizes ranging from 60cm all the way up to 140cm. For a large space, 120cm or 140cm range cookers include spacious ovens and a larger hob, which are perfect for families.
60cm Range Cookers.   90cm Range Cookers.
100cm Range Cookers.   110cm Range Cookers.
Multifunctionality
If you decide to go for a larger cooker, you will most likely encounter with a multifunctional oven paired with a smaller conventional oven. This pairing allows you to cook different foods, at different temperature, all at the same time. These ovens offers various cooking settings including fanned, conventional, pizza mode, intensive cooking, conventional, base heat only and rotisserie. Having these varied settings is what sets a range cooker apart from a standard oven, providing a more controlled cooking experience.
Fuel Type
If you live somewhere that may not have access to gas, there are other options available for you. Some dual fuel cookers can be converted into LPG (Liquified Petroleum Gas) or there is the alternative option of an all-electric range cooker with either a ceramic or induction hob.
You can learn more about this on our previous blogs: Electric Vs Gas Vs Dual Fuel Cookers Pros and Cons  / Gas vs Electric vs Induction Hobs. Differences, Pros & Cons
Capacity
With considerably larger capacity than regular built-in ovens, a range cooker is way more versatile than a regular cooker and has extra space for cooking and storage for cookware and accessories.The larger the oven capacity, the more food that can be cooked and enjoyed at any one time. Depending on which model you choose will dictate just how large the oven capacity is, with some offering up to four ovens on a single range cooker.
Cost to run
In reality, a modern range cooker shouldn't cost any more to run than the equivalent element on another cooker. All modern appliances come with energy ratings, so it's fairly simple to compare like-for-like when looking through what's on offer. Of course, it may be that a double oven costs more to run than a single eye-level oven in a fitted kitchen, but then if you're cooking large amounts of food, it may take two batches and so twice as long as in a standard oven, so things should even themselves out.
Also, of course, the choice in fuel types as well will effect the running costs. A gas range cooker won't cost the same to run as a dual fuel range cooker or an induction range cooker for example. The best range cooker for your energy bills is likely to be a gas range cooker. However, dual fuel range cookers tend to be the preferred option for the better performance and features, achieved by combining the best features of gas and electric ovens.
Matches Your style
Another important factor that you should consider when it comes to choosing a new range cooker is its compatibility with your kitchen's interior design. Whether you prefer a more traditional setting or a more contemporary one, there are plenty of options available to suit both your taste and budget. At Irwins Megastore, we offer a wide range of colors and styles that can be used to create a perfect match for your home.
Price
When it comes to the market price, it is the art of comparing what each brand offers. The price differs depending on how each unit is built and its technology. Some use electricity, gas, or both, and each features extras like a double oven, more hob burners, and unique cooking settings: all of which attract extra cost.
When looking at one model, it would be best to compare it with another of the same type and size to see what one offers and what the other doesn't. Then compare their prices. It would still be difficult to tell which is more durable, so you might want to look into online reviews to learn from other people's experiences before you make a choice.
Price ranges go between €600 and up to €13,000 for the most premium and luxurious models.
Check the models available at our store here: Range Cookers - Irwins Megastore
Benefits 
The benefits of range cookers are many. Most obvious of which is the flexibility they bring. If you're the sort of person who loves to entertain guests with multiple dishes, then a range cooker is an essential addition to the kitchen. One of the main things that sets apart a range cooker from alternatives is the number of compartments, with full-size cookers having two or even three separate ovens, plus a grill. Gas range cookers and dual fuel models can boast up to 7 burners. This allows you to keep on top of multiple dishes at once, all at different temperatures, with different cooking times.
And finally, since not everything can be perfect and wonderful, here are some
Drawbacks of using Range Cookers:
A range cooker is more than you need if you don't cook often.

It's bulky and likely to take much of your kitchen space.

They break the often clean and seamless look of your worktop.

Most brands don't have all the latest features, such as auto cooking functions, WiFi connectivity, touchscreen, etc.

You have to bend to place, view, and remove food from the oven.