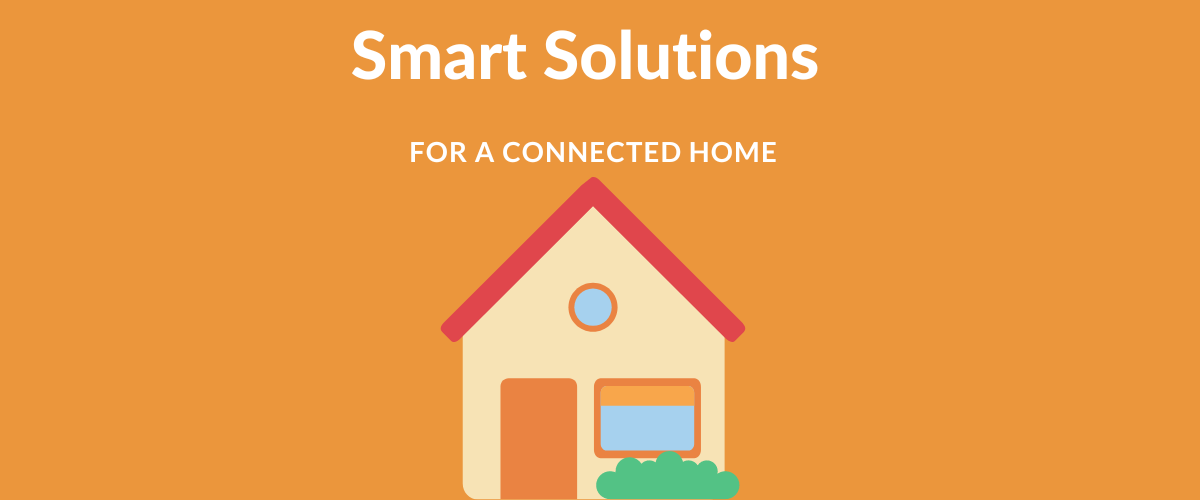 Connected Home Living: Smart Solutions Ireland
Change the way you live for the better with smart devices for the home. Any house can become a connected home with the right smart solutions. There isn't a room in the house that can't be improved with smart technology. Read on to find all you need to know about the smart solutions you need for a connected home.
The Benefits of Smart Devices In The Home
If there was one word that sums up the benefits of smart devices in the home it would be convenience. With smart devices, you can control your home using your phone. With the right selection of smart solutions, your home will be securer, energy efficient, more comfortable and easier to manage.  You can even go hands-free and use voice activation technology to switch your home appliances on and off.
Use Smart Technology For Home Safety
Smart Home Security Cameras
Keeping your family and belongings safe from harm has never been as simple as it is with smart technology.  Smart home security cameras not only keep a watchful eye on your home, but they also connect to your phone too. Check-in from the camera app while at work or away from home.
Wireless and easy to install, you can have your home camera security system set up in no time at all. Install smart cameras indoors and outdoors for extra security or to keep an eye on the pets.
Smart Baby Monitors
Baby monitors have gone smart too. Being able to listen and watch your precious baby snooze without disturbing them gives you peace of mind. The Alecto Smart Baby range allows you to keep a watchful eye on your baby via your phone or tablet. They even notify you about movement or sound with push notifications. Better still, you can soothe your baby whilst you relax with the talkback function for reassurance.
Smart Wireless Floodlights
Keep your home, garden and storage safe and in sight with wireless smart floodlights.  Smart flood lights can be installed easily outdoors on the side of any building. The colour, and brightness of each light can be controlled via the app so you can switch the on and off as needed.
Smart CO2 Monitors
Every home should have at least one CO2 monitor to measure the levels of carbon dioxide (CO2) in the home.  When levels of CO2 become too high it can be damaging to the health of everyone in the home. With a wireless smart home CO2 monitor, you can monitor the daily CO2 levels from your smartphone, tablet or computer.
Be Better Entertained With A Smart Home
Smart TVs
No smart home is complete without a smart TV. Smart TVs connect to the internet so you can enjoy endless entertainment choices. Watch streaming services, play games, listen to music or call family on your smart TV.
Not ready to upgrade to a smart TV? Then try a Google ChromeCast or Amazon Fire Stick. Both of these handy little devices plug into your TV so you can access streaming experiences like Netflix and Prime Video.
Smart Home Projectors
If you prefer the home cinema experience, look no further than smart home projectors. Control your movie experience from your phone and project your films in full HD. This is a gadget the whole family will enjoy. Even better, you can take it on trips with you too for holidays or even for work.
Smart Lights For Gardens
Anyone who likes to entertain at home will love the smart Light Strip and Garden String Lights. Add instant mood lighting to every room in your home with Smart Wifi Strip Lights that can be controlled from your phone. Perfect for parties, relaxing or simply entertaining a young family.
Light up your garden parties with smart string lights that are also waterproof, windproof and shatterproof. Change up the party mood by changing the light colour from your phone and recharge them easily with a USB. You can even set a timer so they come on at the perfect moment and so you don't forget to switch them off.
Three Easy Ways To Convert Your House Into A Smart Home
Boost Your Home WiFi
To get started with smart home devices, set up your basic network and internet technology first. Most smart devices connect directly to your internet and are controlled by an app on your phone. So, for a connected home that runs smoothly, you will need a good WiFi connection before anything else.
For homes with WiFi dead zones or patchy signals, help is at hand. At Irwins, we stock a range of WiFi boosters and extenders to improve the internet in any home. The TP-LINK Deco Whole Home Wi-Fi System, for example, will provide stable and faster connection speeds throughout the home. Available in packs of three, you'll have enough seamless internet to run a smart home of up to 5,500 square feet.
 2. Make Your 'Dumb' Devices Smart
Did you know that you can make your 'dumb'* devices and appliances smart? From your favourite reading lamp to your fridge freezer, with small tweaks, they can be smart too. To transform any existing device or appliance into smart versions, all you need is smart plugs.
Smart plugs look similar, in shape and size, to travel plug adapters but they serve a very different purpose. Hook it up to your internet and you will be able to control the device or appliance using your phone. To use a smart plug, simply plug it into a socket and then plug the device or appliance into the smart plug.
Lastly, turn all your home lighting into smart lighting by simply changing the lightbulbs. It couldn't be simpler. Smart bulbs look just like classic bulbs and are available as screw-in bulbs or bayonet caps (push-in).
* (your standard devices etc)
3. Consider A Smart Home Hub
Like the idea of controlling your home with voice commands, but don't want to use your phone? Then you might like the idea of a smart home hub like Google Nest Audio. This speaker-come-smart-device-controller can be connected to all compatible devices for easy voice control. Relax in your home whilst your Google Nest streams your favourite music and fulfils your every voice command. 
Call in-store to Irwins Megastore or shop online at irwinsmegastore.ie for smart devices for your home.  Our experienced and friendly team are always on hand to lend a hand and offer advice.